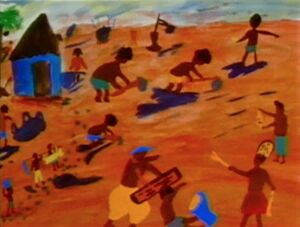 "We Are Kids from Far and Wide" is a series of animated shorts produced for Season 22 of Sesame Street by Michael Sporn. The segments, narrated by children, focus on the culture of international countries such as Sierra Leone and Colombia.
Segments
Indonesia (EKA: Episode 2750)

A girl describes the preparation for the Galungan festival in Bali, Indonesia.
Thailand (EKA: Episode 3010)

Jittar, who lives in Thailand, describes the holiday of Songkran.