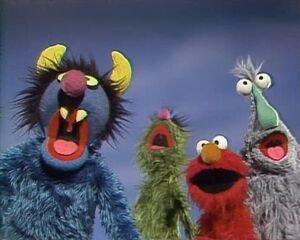 Template:Firstbox "We Are All Monsters" is a song from Sesame Street sung by four monsters about how, although they are all different, they are all still monsters.
Notes
One of the monsters in this song would later be known as Elmo. Originally, Jerry Nelson performed this monster with a deep, gruff voice, but in 1990 after the monster became a major character, Kevin Clash re-recorded Elmo's lines.
On the video Monster Hits!, the group of monsters is called "The Furtones".
Performers
Releases
Audio (Original)
Video (New)