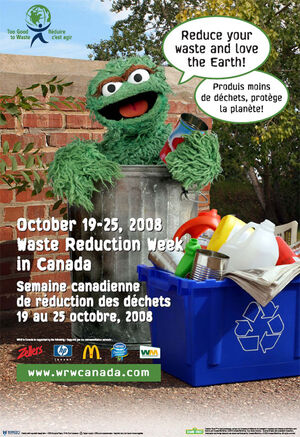 Waste Reduction Week has been held annually in Canada since 2001.
In 2008, two PSAs were produced featuring Oscar the Grouch to help promote awareness of the event. Oscar was also featured on posters and other promotional materials. He also appeared in the cold-opening to The Hour, and was interviewed on the Canadian entertainment program eTalk.
In 2009, the group launched a campaign called "OscWatch" in which a series of news reports were released about sighting of Oscar in Canada. wrwcanada.com/oscwatch Posters for the campaign were posted at sponsors like McDonalds. The 2009 media tour included appearances on CBC Radio's Q with Jian Ghomeshi, CTV morning show Canada AM, ET Canada (a co-production of Entertainment Tonight), and a launch event at Rose Avenue Public School, Toronto.
External links
Ad blocker interference detected!
Wikia is a free-to-use site that makes money from advertising. We have a modified experience for viewers using ad blockers

Wikia is not accessible if you've made further modifications. Remove the custom ad blocker rule(s) and the page will load as expected.