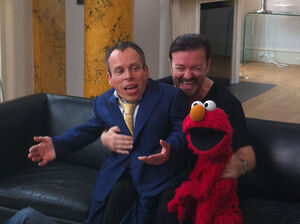 Warwick Davis (b. 1970) is best known to Star Wars fans for his role as Wicket the Ewok in Star Wars: Return of the Jedi (as well as Caravan of Courage: The Ewok Adventure and Ewoks: The Battle for Endor). In 1988, he played the title character in Willow. Some of his other films include Star Wars: The Phantom Menace (as Wald, and a stand-in for Yoda), the Ray Charles biopic Ray, the Leprechaun series (as the title character), and the Harry Potter series (as Professor Flitwick).
His Creature Shop roles include playing a goblin corps member in Labyrinth, Grildrig in Gulliver's Travels, and Marvin the Paranoid Android in The Hitchhiker's Guide to the Galaxy.
When Elmo visited London in 2010, an online video of his visit to Ricky Gervais' office included a surprise visit by Davis.
External links
Ad blocker interference detected!
Wikia is a free-to-use site that makes money from advertising. We have a modified experience for viewers using ad blockers

Wikia is not accessible if you've made further modifications. Remove the custom ad blocker rule(s) and the page will load as expected.