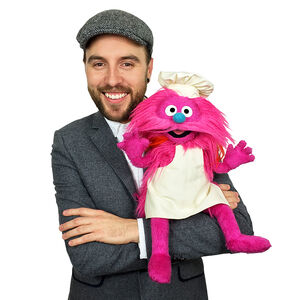 Warrick Brownlow-Pike (b. 28 January 1985) is a British puppeteer who has assisted for The Muppets in several of their UK appearances. Most recently, he puppeteered in Muppets Most Wanted (as a lead UK performer and playing one of the Babies), on the Sesame Street spin-off The Furchester Hotel, and on the Henson Company-produced That Puppet Game Show. He and his Furchester Hotel character, Gonger, joined Sesame Street for season 48 for the "Cookie Monster's Foodie Truck" segments, which Brownlow-Pike pitched to the producers.
He has been assistant puppeteer for Elmo and Abby Cadabby's Milkshake! appearances and the Sesame Street "ElmOlympian" video. He also assisted Eric Jacobson with Miss Piggy and Fozzie Bear in a musical number on The X Factor and for PR and Publicity shoots. He also performed Animal, while Jacobson was performing Piggy, for an Olly Murs music video.
For the 2014 premiere of The Furchester Hotel, Brownlow-Pike performed a Muppet reporter named Haywood, who covered the event.[1] (YouTube)
From 2001 through 2005, he worked with toy company Palisades as a "Muppet Consultant" on the figures, concentrating on the look and design of the characters. He also conceived the Invisible Fozzie Action Figure. In 2005, he was thanked in the credits of Interviews with Fraggle Rock Creators & Puppeteers and Behind the Scenes in Frogtown Hollow for supplying behind the scenes images.
Warrick's other puppetry includes two of his own TV series 2008's Ed and Oucho's Excellent Inventions and 2009's Transmission Impossible with Ed and Oucho (with Louise Gold and Mak Wilson) for the childrens BBC division (CBeebies). He has also been doing live TV since August 2007, bringing in guests such as Mak Wilson, Andy Heath, Neil Sterenberg, Sarah Burgess and Dave Chapman.
He has also worked on a number of other CBeebies shows, including Space Pirates (with Brian Herring, Dave Chapman and Sarah Burgess) and Get Well Soon. In 2010 and 2011, he performed on the first two series of the adult puppetry TV show Mongrels (with Andy Heath, Richard Coombs, Susan Beattie, Simon Buckley and Mak Wilson).
Warrick's original character Dodge T. Dog has performed on Comic Relief and Blue Peter (interviewing Selena Gomez in the latter), met the Queen, and went to The Muppets UK premiere to meet Kermit and Miss Piggy.
Sources
↑ Personal communication with Andrew Spooner by Anthony T.
External links