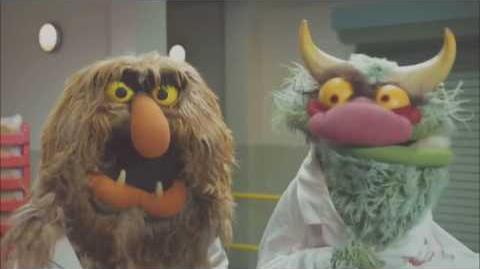 Warburtons is a bakery company established in England in 1876.
In November 2015, the Muppets appeared in a two-minute promo spot, advertising the company's new Giant Crumpets. In the ad, Kermit the Frog approaches company chairman Jonathan Warburton to propose a new ad campaign for the Giant Crumpet - "The Giant Crumpet Show." From a factory, the entire Muppet gang sings a variant of "The Muppet Show Theme," boasting about the new Giant Crumpets. In the end, Warburton approves of the idea, though Statler and Waldorf typically thumb it down. Kirk Thatcher and Declan Lowney directed the spot.
Gallery
Posters
Videos
A sing-along version, a behind-the-scenes video, a news flash video, one featuring Sweetums, and a curmudgeonly "review," were released shortly after the premiere of the commercial.
Cast
Andy and Randy Pig, Angel Marie, Animal, Beaker, Beauregard, Beautiful Day Monster, Behemoth, Big Mean Carl, Bobby Benson, Bunnies, Dr. Bunsen Honeydew, Carter, Chickens, Crazy Harry, Cue Card Monster, Cynthia Rose, Droop, The Flying Zucchini Brothers, Gonzo, Dr. Julius Strangepork, Kermit the Frog, Lew Zealand, Link Hogthrob, Lips, Luncheon Counter Monster, Marvin Suggs, Miss Piggy, Mo Frackle, Monkey, Nigel, The Newsman, Penguins, Pepe the King Prawn, Pokey, Pops, Purple Frackle, Rizzo the Rat, Rowlf the Dog, Sam the Eagle, Scooter, The Snowths, Statler and Waldorf, The Swedish Chef, Sweetums, Uncle Deadly, Wayne and Wanda, Whatnots, Zoot
Notes
See also
Ad blocker interference detected!
Wikia is a free-to-use site that makes money from advertising. We have a modified experience for viewers using ad blockers

Wikia is not accessible if you've made further modifications. Remove the custom ad blocker rule(s) and the page will load as expected.