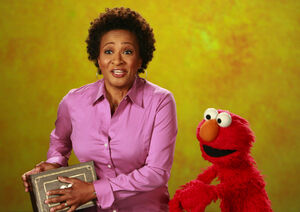 Wanda Sykes (b. 1964) is a stand-up comedienne, well known for her role in The New Adventures of Old Christine and for hosting her own late-night talk show, The Wanda Sykes Show.
In 2009, Sykes appeared on NBC's Today dressed as Elmo. She appeared in Season 41 of Sesame Street, talking with the real Elmo about the word "journal" while being embarrassed by her own journal.
In 2011, Sykes was signed on to appear in The Muppets as Officer Ethel, interrogating the detained Muppet gang, but her scenes were cut.
External links
Ad blocker interference detected!
Wikia is a free-to-use site that makes money from advertising. We have a modified experience for viewers using ad blockers

Wikia is not accessible if you've made further modifications. Remove the custom ad blocker rule(s) and the page will load as expected.