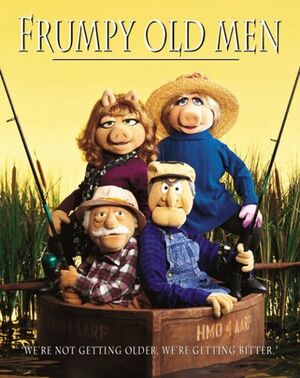 Walter Matthau (1920-2000) was an American comic actor perhaps best known for his many cinematic team-ups with Jack Lemmon, including The Fortune Cookie (which netted him an Academy Award for Best Supporting Actor), The Odd Couple, and Grumpy Old Men.
An Oscar nominee for his role in The Sunshine Boys with George Burns, this teaming was referenced in The Muppet Show episode 210. When George tells Gonzo "you remind me of somebody I used to work with" (meaning Gracie Allen), Gonzo assumes he means Walter Matthau.
Statler spoofed Matthau's role in Grumpier Old Men in the 1998 calendar Muppet Movie Parodies: Plump Fiction.
Trivia
Sources
External links