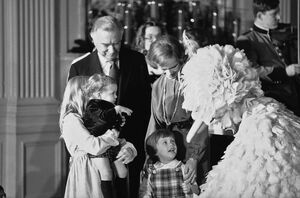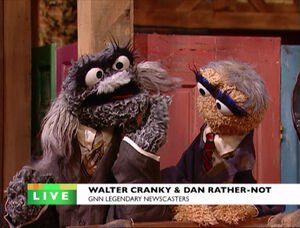 Walter Cronkite (1916-2009) was a veteran television journalist, who spent 19 years as anchorman of the CBS Evening News. He was interviewed in the special Sing! Sesame Street Remembers Joe Raposo and His Music, in which he indicated that he was the first man Joe Raposo ever kissed on the cheek.
On December 21, 1978, Cronkite and Big Bird attended a Christmas reception for children of diplomats at the White House, hosted by President Carter and First Lady Rosalynn Carter.
Cronkite is an Academy of Television Arts and Sciences Hall of Fame inductee.
References
When Oscar, who has been reporting for GNN (the Grouch News Network) signs off, he paraphrases Cronkite's signature sign off with, "And that's the grouchy way it is" on episode 4160 of Sesame Street.
Ad blocker interference detected!
Wikia is a free-to-use site that makes money from advertising. We have a modified experience for viewers using ad blockers

Wikia is not accessible if you've made further modifications. Remove the custom ad blocker rule(s) and the page will load as expected.