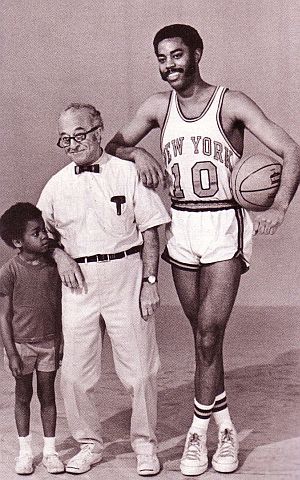 Walt Frazier (b. 1945) is a former professional basketball player who spent ten years with the New York Knicks (1967-1977) and is currently a commentator on their games.
Together with Mike Riordan and Dick Barnett, he was one of the first three basket ball players to appear on Sesame Street.[1]
Frazier was featured in several inserts, such as playing basketball with his teammates in Episode 0158. In one segment, the 6' 4" Frazier appeared with Mr. Hooper and one of the Kids to demonstrate tall, taller, and tallest.
Sources
↑ Sesame Workshop Blog - The History of Hoops on Sesame Street by Graydon Gordian (2012-03-08)
Ad blocker interference detected!
Wikia is a free-to-use site that makes money from advertising. We have a modified experience for viewers using ad blockers

Wikia is not accessible if you've made further modifications. Remove the custom ad blocker rule(s) and the page will load as expected.