Ad blocker interference detected!
Wikia is a free-to-use site that makes money from advertising. We have a modified experience for viewers using ad blockers

Wikia is not accessible if you've made further modifications. Remove the custom ad blocker rule(s) and the page will load as expected.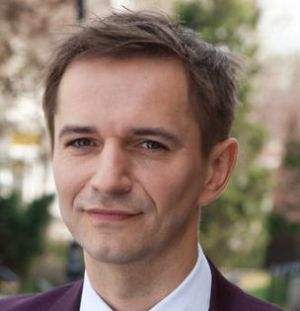 Waldemar Barwiński is a Polish voice actor who dubbed Scooter in Muppety (The Muppets). He previously dubbed Pip for 33 second season episodes in Niedźwiedź w dużym niebieskim domu (Bear in the Big Blue House), Gonnigan on Abby's Flying Fairy School, and Ben Stiller in the TV airing of the video Sesame Sings Karaoke.
Barwiński has dubbed Martin Freeman in The Hobbit, Jim Carrey in Mr. Popper's Penguins, Joe Pantoliano in The Goonies, several guest actors on The Suite Life of Zack and Cody, and Matthew Scott Morgan on So Random. Feature animation credits include the title role in Wall-E and Fix-It Felix in Wreck-It Ralph, while series credits include Batman: The Animated Series (as Scarecrow), Justice League (Hawkman and Brainiac 5), Garfield, and Pokémon (Brock in later seasons).