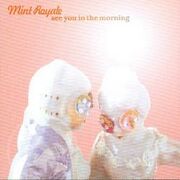 "Waiting in the Rain" is the original name of a remix of 1952 musical song "Singin' in the Rain", from the musical of the same name. It was featured in the stage show Gran Musical, at Parque Plaza Sésamo.
UK big beat electronic music act Mint Royale released their first album in 1999, reaching number 2 on the UK Singles Chart that year with a remix of "Tequila".
In 2005, their album Wait for You in the Morning included a remix of "Singin' in the Rain", titled "Waiting in the Rain". After appearing in a Volkswagen Golf GTI commercial, it was retitled "Singin' in the Rain", a released as a single which reached number 20 on the UK Singles Chart, and rereleasing it on album "See You in the Morning".
The song returned to popularity in 2008, reaching #1 on the charts, after being performed by George Sampson on Britain's Got Talent, and danced to Jack Chambers on So You Think You Can Dance Australia.
Ad blocker interference detected!
Wikia is a free-to-use site that makes money from advertising. We have a modified experience for viewers using ad blockers

Wikia is not accessible if you've made further modifications. Remove the custom ad blocker rule(s) and the page will load as expected.