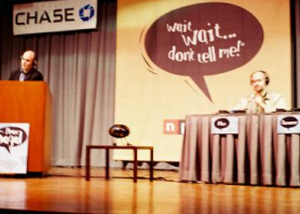 Wait Wait... Don't Tell Me! is an hour-long current events game show produced by Chicago Public Radio and broadcast nationally through NPR. Airing on weekends, the series is hosted by Peter Sagal and features scorekeeper/judge/announcer Carl Kassell. Weekly panelists include authors, political columnists, and entertainers, including Roy Blount Jr., Paula Poundstone, and Mo Rocca. The program is broken up into a series of games, some just for the panelists, while others feature call-in contestants and guests.
One weekly game is "Lightning Fill in the Blank," about a random current event, which in the September 23, 2006 broadcast, featured Tickle Me Elmo as the answer, in connection with the recent sales of TMX Elmo. The following week, September 30, both Elmo and Kevin Clash were heard, phoning in for the twelve minute segment "Not My Job," in which a celebrity guest takes a multiple choice quiz on a subject outside of their profession. Elmo and Clash answered questions about Bill O'Reilly and a recent expose of his practices in GQ. Elmo also took the opportunity to criticize the program's name ("What kind of title is Wait Wait?") When host Sagal asked Elmo a question about the TMX Elmo, Clash pointed out that Elmo is just a 3 year old monster who lives on Sesame Street, with no awareness of his ubiquitous presence on best-selling children's toys. The segment closed with a sample from "Elmo's Song."
Other guests who have participated in "Not My Job" include Billy Connolly, Craig Ferguson, Elliott Gould, Sally Jesse Raphael, and Sarah Silverman.
External links