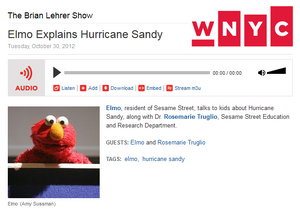 WNYC is a radio station broadcasting for the New York City area.
Appearances
October 30, 2012 - Elmo and Rosemarie Truglio were call-in guests on The Brian Lehrer Show. Amidst Hurricane Sandy which struck the eastern seaboard that week, Elmo and Truglio offered tips for how to handle the storm. Lehrer referenced the hurricane episodes from 2001, and Elmo said that Dorothy could hear the winds from inside her fishbowl. [1]
September 9, 2015: Sonia Manzano appeared on Death, Sex and Money to discuss her life and time on Sesame Street.
External links
Ad blocker interference detected!
Wikia is a free-to-use site that makes money from advertising. We have a modified experience for viewers using ad blockers

Wikia is not accessible if you've made further modifications. Remove the custom ad blocker rule(s) and the page will load as expected.