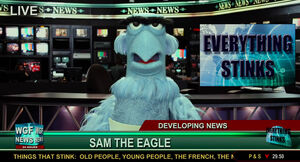 WGF News is a television station in the film The Muppets. Sam the Eagle is briefly seen working at the station, on a program called Everything Stinks.
A news ticker on the channel includes headlines like "Things that stink: old people, young people, the French, the non-French, foreign countries, domestic countries."
The station is a thinly-veiled parody of FOX News, right down to the spinning cube logo in the lower left corner.
Ad blocker interference detected!
Wikia is a free-to-use site that makes money from advertising. We have a modified experience for viewers using ad blockers

Wikia is not accessible if you've made further modifications. Remove the custom ad blocker rule(s) and the page will load as expected.