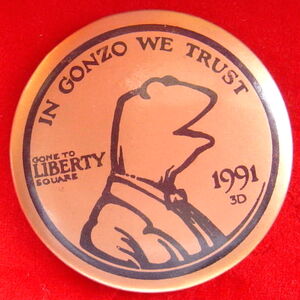 A button given as a production gift to a group of Disneyland Imagineers was auctioned on Ebay in 2009.
The auction listing described the item:
"

This is a Super Rare Disney Imagineering button from 1991. It was a project button given to a select few Imagineers who worked on the initial concept for a proposed changeout of the Great Moments with Mr. Lincoln Attraction on Main Street at Disneyland with a Muppets 3D attraction.

The idea obviously failed and this never happened.

The pun of the button is that is resembles a Lincoln copper penny, but a profile of Kermit the Frog is now shown on the front.

Above him the phrase "IN GOD WE TRUST" has been changed to "IN GONZO WE TRUST".

It also reads "Gone to Liberty Square" on the left, and is dated 1991 on the right, with "3D" below.

Measures 2 1/4" in diameter."
Ad blocker interference detected!
Wikia is a free-to-use site that makes money from advertising. We have a modified experience for viewers using ad blockers

Wikia is not accessible if you've made further modifications. Remove the custom ad blocker rule(s) and the page will load as expected.