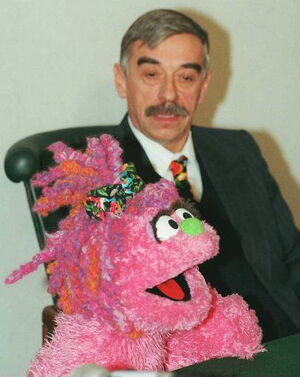 Vladimir Grammatikov (b. 1942) is a Russian film director, specializing in children's and youth-oriented films, including the 1987 fantasy feature Mio in the Land of Far Away starring Christian Bale and Christopher Lee. Beginning his career as an actor, Grammatikov worked as a choreographer and director at Moscow's Stanislavsky Drama Theater and the Obraztsov Puppet Theater in Moscow. While he worked as an actor in several Soviet features, he shifted to directing, and in 1977 made his feature debut with Usatyy Nyan (The Whiskered Nanny).
In 1996, Grammatikov became involved in the development of Ulitsa Sezam, the Russian version of Sesame Street, and served as director for the series. He spoke about the project:
"

We are a country that has lived through a revolution in the last decade. So we are, of course, having trouble finding people with a new approach to the world. That is exactly why this show is so timely and valuable.[1]

"
Sources
↑ Specter, Michael. "In Creating Russia's Sesame Street, Letter 'D' Stands for Difficult." The New York Times. October 22, 1996.
External links