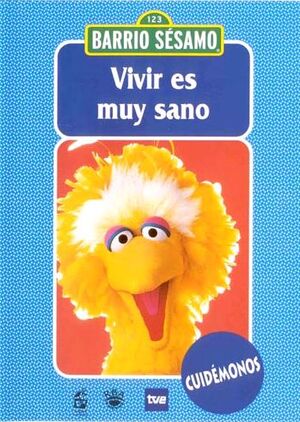 | | |
| --- | --- |
| Release Date | 2003 |
| Produced by | RBA Coleccionables |
| Format | VHS |
Viver es muy sano (To live is very healthy) is a 30 minute Barrio Sésamo episode, which aired under the same title between 1996 and 2000.
In this video, Bluki, Vera and their friends learn about taking care of things.
Segments
Paco Pico y la siesta (Big Bird and the nap)
Los bomberos salvan vidas (The firemen save lives)
La importancia del desayuno (The importance of breakfast)
Peinarse y lavarse es muy divertido (Combing your hair and bathing are very fun!)
¿De qué se olvida Juan Olvido? (What did Juan Olvido forget?)
Ad blocker interference detected!
Wikia is a free-to-use site that makes money from advertising. We have a modified experience for viewers using ad blockers

Wikia is not accessible if you've made further modifications. Remove the custom ad blocker rule(s) and the page will load as expected.