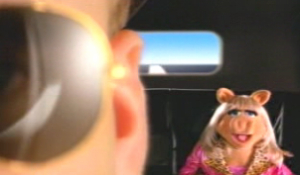 Virgin Atlantic is a leading British airline, operating long-haul flights between London and North America, the Caribbean, Africa, the Middle East, Asia, and Australia. In 2001, the company launched a television ad campaign promoting the airlines' "Upper Class" service, a series of 30 second spots in which celebrities praised a particular feature.
Miss Piggy (puppeteered by Nigel Plaskitt and voiced by Eric Jacobson) appeared in one spot, praising the luxurious complimentary limo service, and telling the viewer that if their airline doesn't offer that, "Well, vous picked the wrong airline, buster! Kissy kissy."
Other stars appearing in the campaign included Lady Victoria Hervey, Iggy Pop, and Stephen Fry.
Ad blocker interference detected!
Wikia is a free-to-use site that makes money from advertising. We have a modified experience for viewers using ad blockers

Wikia is not accessible if you've made further modifications. Remove the custom ad blocker rule(s) and the page will load as expected.