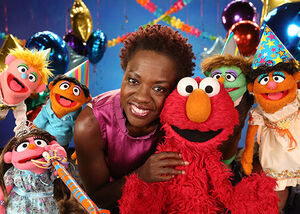 Viola Davis is a Tony-winning stage actress, who received Academy Award nominations for her roles in Doubt (2008) and The Help (2011).
At the 2012 BAFTA Awards, Davis talked with Miss Piggy for the latter's Orange Film red carpet show.
Davis appears in a Word of the Day segment for Sesame Street's 45th season, presenting the word "fiesta" with Elmo and a group of Anything Muppets.