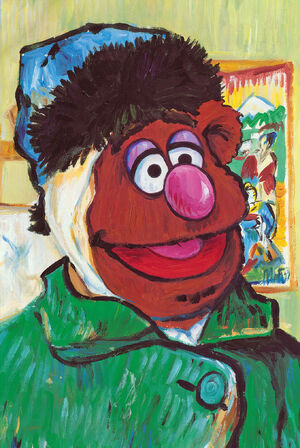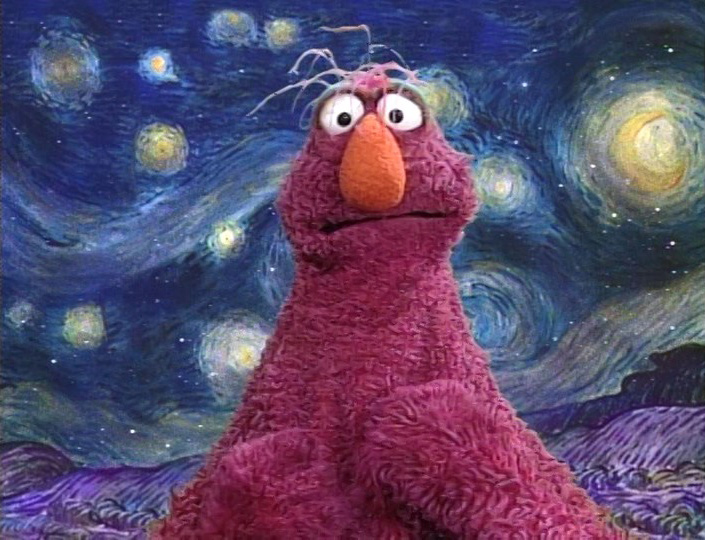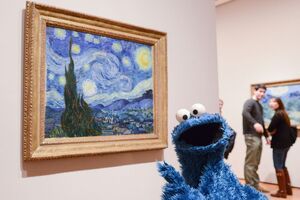 Vincent van Gogh (1853-1890) was a Dutch Post-Impressionist artist. Some of his paintings are now among the world's best known, most popular and expensive works of art. Van Gogh's history of mental illness contributed to the legend of cutting off his ear, which is attributed to everything from a fight, to an act of love. Most historians believe that he lost his lobe in a seizure.
References
In episode 109 of The Muppet Show, Gonzo asks of Kermit's attention, to which he replies he can "lend [him his] ear for a moment." Gonzo takes it literally and asks what he would do with his ear and Kermit remarks "Van Gogh impressions."
As a reference within a reference, Joe Mathieu spoofed Norman Rockwell's "Triple Self Portrait" with Grover taking the place of the famed painter. And taking the place of the Van Gogh self portrait Rockwell included on the easel, is an Anything Muppet Vincent van Gogh self portrait.
The Van Gogh painting First Steps, after Millet was featured in an animated segment on Sesame Street. (EKA: Episode 3492)
Cookie Monster admires Van Go-Get-Cookie's Cookie Night at the Museum of Monster Art in the 2015 storybook All Aboard!
Gallery
Sources
Ad blocker interference detected!
Wikia is a free-to-use site that makes money from advertising. We have a modified experience for viewers using ad blockers

Wikia is not accessible if you've made further modifications. Remove the custom ad blocker rule(s) and the page will load as expected.