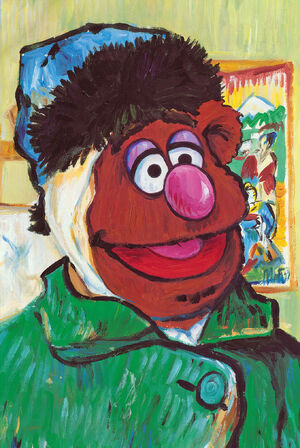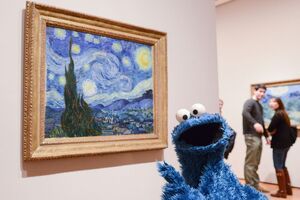 Vincent van Gogh (1853-1890) was a Dutch Post-Impressionist artist. Some of his paintings are now among the world's best known, most popular and expensive works of art. Van Gogh's history of mental illness contributed to the legend of cutting off his ear, which is attributed to everything from a fight, to an act of love. Most historians believe that he lost his lobe in a seizure.
References
In the Muppet Art: 1999 Calendar, two of his works are featured. "Bedroom in Arles" and "Self-Portrait with Bandaged Ear".
In the coloring book Museum of Monster Art, the Twiddlebugs are shown with his painting Vase with Fourteen Sunflowers, and Grover is seen sleeping under Vase with Irises.
The Elmo's World episode "Sky" features a copy of the artist's "Starry Night" in Dorothy's fish bowl.
One of Van Gogh's "Sunflowers" paintings appears on Kermit's wall in the Elmo's World episode "Frogs".
InThe Muppet Show episode 224, a Muppet News Flash reports that Dr. Bunsen Honeypig was sued by the wife of Vincent van Gogh Pig for converting his ear into a silk purse.
In episode 109 of The Muppet Show, Gonzo asks of Kermit's attention, to which he replies he can "lend [him his] ear for a moment." Gonzo takes it literally and asks what he would do with his ear and Kermit remarks "Van Gogh impressions."
Danny DeVito played Vincent Van Grouch, the curator of the Museum of Trash on Sesame Street. (EKA: Episode 2504)
As a reference within a reference, Joe Mathieu spoofed Norman Rockwell's "Triple Self Portrait" with Grover taking the place of the famed painter. And taking the place of the Van Gogh self portrait Rockwell included on the easel, is an Anything Muppet Vincent van Gogh self portrait.
Vincent van Gogh was referenced as "Vincent van Monster," a monster painter and a member of the Monster Hall of Fame as shown in Monsters, Monsters! and reprinted in the On My Way with Sesame Street volume "In the City."
The Van Gogh painting First Steps, after Millet was featured in an animated segment on Sesame Street. (EKA: Episode 3492)
In Kids' Favorite Songs, Telly sings "Twinkle Twinkle Little Star". The background behind him is based off of "Starry Night".
In the song "Let's Talk About Me" from The Muppets, Tex Richman sings that he uses more "green" than Van Gogh.
In December 2011, Sesame Workshop partnered with the Amsterdam-based Vincent van Gogh Museum to recreate a version of "Bedroom in Arles" featuring Elmo, Bert, Ernie, Ieniemienie, Tommie, Purk and Pino to commemorate the 35th anniversary of Sesamstraat. The special painting was unveiled by Sesamstraat actor Frank Groothof and was on display at the museum.[1]
The Cookie Thief features parody paintings by Vincent van Dough, including A Starry Cookie Night, Cookie Flowers, The Cookie Eaters and Self Portrait.
Josh Gad portrays a painter named "Vincent van Stop" in a season 45 episode of Sesame Street.
Cookie Monster admires Van Go-Get-Cookie's Cookie Night at the Museum of Monster Art in the 2015 storybook All Aboard!
Gallery
Sources
Ad blocker interference detected!
Wikia is a free-to-use site that makes money from advertising. We have a modified experience for viewers using ad blockers

Wikia is not accessible if you've made further modifications. Remove the custom ad blocker rule(s) and the page will load as expected.