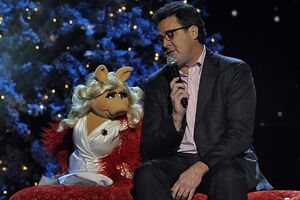 Vince Gill (b. 1957) sang a duet of "Daydream" with Kermit in the 1994 CD Kermit Unpigged. On the liner notes of the album he is given a special thanks for suggesting the "unforgettable title."
On November 10, 2011, Gill appeared with Miss Piggy at the Bridgestone Arena in downtown Nashville, Tennessee, filming their duet "Baby, It's Cold Outside" for the TV special CMA Country Christmas, airing December 1, 2011.
External Links
Ad blocker interference detected!
Wikia is a free-to-use site that makes money from advertising. We have a modified experience for viewers using ad blockers

Wikia is not accessible if you've made further modifications. Remove the custom ad blocker rule(s) and the page will load as expected.