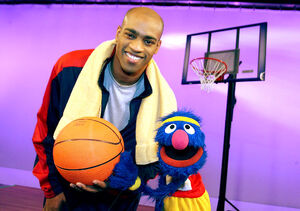 Vince Carter (b. 1977) is an American professional basketball player in the National Basketball Association (NBA). He is currently a starting small forward for the Memphis Grizzlies.
He appeared in a segment with Grover in the Sesame Street video Count on Sports demonstrating short and tall.
Grover told the Yankees Entertainment and Sports Network in late November 2007 that "I could not believe how tall he was! Oh my goodness. I really threw out my neck looking up at him." In the YES Network segment, Carter considers Grover as a point guard for his team (at the time, the New Jersey Nets).
External links
Ad blocker interference detected!
Wikia is a free-to-use site that makes money from advertising. We have a modified experience for viewers using ad blockers

Wikia is not accessible if you've made further modifications. Remove the custom ad blocker rule(s) and the page will load as expected.