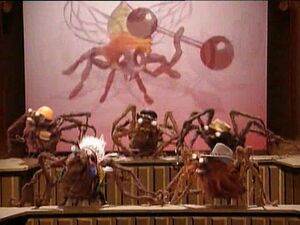 The Village Spiders are a band of disco arachnids who appear on episode 212 of Muppets Tonight. They ultimately meet their demise when they're crushed by a falling light fixture.
Their song "Macho Bug" is a parody of "Macho Man", and they themselves are a spoof of that song's respective performers, the Village People.
Ad blocker interference detected!
Wikia is a free-to-use site that makes money from advertising. We have a modified experience for viewers using ad blockers

Wikia is not accessible if you've made further modifications. Remove the custom ad blocker rule(s) and the page will load as expected.