Ad blocker interference detected!
Wikia is a free-to-use site that makes money from advertising. We have a modified experience for viewers using ad blockers

Wikia is not accessible if you've made further modifications. Remove the custom ad blocker rule(s) and the page will load as expected.
Songs from
Vila Sésamo
Released
1972
Format
LP
Label
Som Livre
Cat no.
403.6035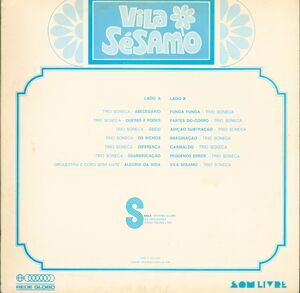 Vila Sésamo, the soundtrack album for Vila Sésamo, the Brazilian co-production of Sesame Street, was produced by Rede Globo in 1972. It was the only Sesame album produced in Brazil. All tracks were written by Marcos Valle. Two singles from the album were also released (see International Sesame Street Singles for details).
This album was reissued on CD in 2006. But on this version, the song "Alegria da vida" was moved to the first track.
Track listing
Side One
Abecedário (The Alphabet) - Trio Soneca
Querer e poder (Want and Be Able to) - Trio Soneca
Gugu (Gugu) - Trio Soneca
Os Bichos (The Bugs) - Trio Soneca
Diferença (Differences) - Trio Soneca
Classificação (Classification) - Trio Soneca
Alegria da vida (Joy of Life) - Orchestra and the Som Livre Choir
Side Two
Funga Funga (Funga Funga) - Trio Soneca
Partes do corpo (Parts of the Body) - Trio Soneca
Adição-Subtração (Addition and Subtraction) - Trio Soneca
Imaginação (Imagination) - Trio Soneca
Garibaldo (Garibaldo) - Trio Soneca
Pequenos erros (Small Errors) - Trio Soneca
Vila Sésamo (Theme Song) - Suzana Machado Ribeiro
Cast
Singles
Other releases
External links