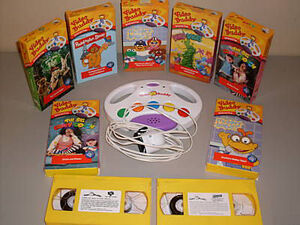 Video Buddy was an interactive VHS educational system from Interactive Learning Group. First introduced in 1999, over a dozen titles were released, including three based on Jim Henson's Muppet Babies. Other properties included Paddington Bear, Salty's Lighthouse and The Big Comfy Couch.
The system consisted of a "kid-friendly handset" that featured two handles and six large, colorful buttons. The unit interacted with the video tapes through a suction cup sensor that attached to the television screen.
Muppet Babies titles
External links
Ad blocker interference detected!
Wikia is a free-to-use site that makes money from advertising. We have a modified experience for viewers using ad blockers

Wikia is not accessible if you've made further modifications. Remove the custom ad blocker rule(s) and the page will load as expected.