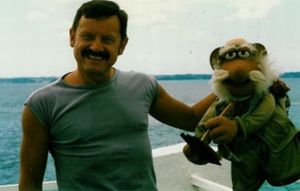 Victor Pemberton (1931-2017) was a British author and television writer who scripted the new framing segments and inserts for the UK version of Fraggle Rock. Pemberton conceived the character of The Captain as the UK counterpart to Doc. He also subsequently took over from Duncan Kenworthy as producer of the second and third UK series.
Pemberton's other credits include a stint on Doctor Who, as story editor on "The Tomb of the Cybermen" and writer of the serial "Fury of the Deep," amongst other contributions.
External Links
Ad blocker interference detected!
Wikia is a free-to-use site that makes money from advertising. We have a modified experience for viewers using ad blockers

Wikia is not accessible if you've made further modifications. Remove the custom ad blocker rule(s) and the page will load as expected.