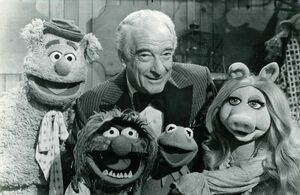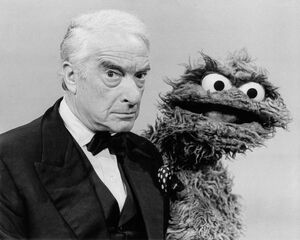 Danish-born Victor Borge (1909-2000) was a classical pianist, conductor, composer, songwriter, entertainer and actor. During his long career, he appeared on radio and television, in movies, and made many comedy (and a few serious classical) albums. He also performed in concerts throughout the world.
One of his famous skits involved "phonetic punctation," in which he read a story out loud, and replaced each punctuations mark (such as commas, question marks and periods) with sound effects. He later performed this skit on The Electric Company.
Borge also appeared in several inserts on Sesame Street in season 9. Inserts included demonstrating high and low notes, explaining dental care (using his piano as an analogy), singing a duet of "Follow Me" with Bob, and in an insert with Oscar the Grouch.
Borge was the guest star on episode 405 of The Muppet Show. In an interview with the Danish magazine Se og Hør in 1979. He said how he could not sleep between 2 taping days, he felt that his number with Rowlf, Hungarian Rhapsody No. 2, weren't good enough. So the set was rebuilt the next day and the scene was re-taped. He also admitted that there's limits to what you can do in-front of a piano, and therefore his appearance was mostly a repeat of what he has done before.
He was the recipient of the Kennedy Center Honor in 1999 for his lifetime contributions to arts and culture.
References
In the 2009 edition of A Capitol Fourth, Big Bird is about to conduct an orchestra and remarks "Pardon my back; pardon my front. That's the way I'm built. Victor Borge, 1956."