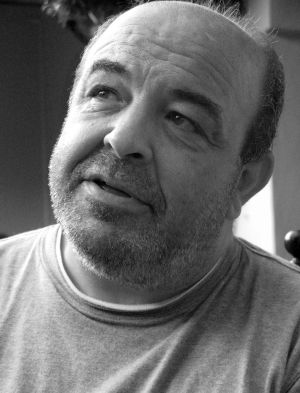 Vicente Gil (b. 1956) is a Spanish voice actor who dubbed the Castilian voices of Gordon in Elmo en El País de los Gruñones (The Adventures of Elmo in Grouchland) and Uncle Deadly in Los Muppets (The Muppets) and El tour de los Muppets (Muppets Most Wanted).
Gil has appeared frequently on Spanish television since the 1970s, with recurring and guest roles on telenovelas and dramas, as well as over a score of films (often as taxi drivers or policemen) including the 1980s English language horror film Anguish and a co-starring role in the Spanish language comedy Nos hacemos falta (2001).
Gil has been active in dubbing from 1985 onward, notably as the Castilian Spanish voice of Dan Blocker on Bonanza. He also dubbed Lewis Abernathy in Titanic, Admiral Ackbar in Star Wars: The Force Awakens, Michael Chiklis in The Fantastic Four and its sequel, Andre the Giant in The Princess Bride, Richard E. Grant in Gosford Park, and Reg E. Cathey on House of Cards. In localized video games, he voiced Dr. Mobius in Fallout: New Vegas and various roles in the Assassin's Creed and World of Warcraft series
External links
Ad blocker interference detected!
Wikia is a free-to-use site that makes money from advertising. We have a modified experience for viewers using ad blockers

Wikia is not accessible if you've made further modifications. Remove the custom ad blocker rule(s) and the page will load as expected.