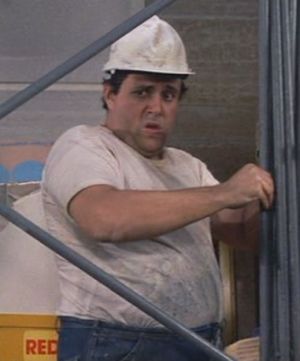 Vic Polizos (b. 1947) is a character actor, most often cast as blue-collar types, cops, or mobsters. He appeared in The Muppets Take Manhattan as one of the three construction workers, aiming the traditional wolf whistles and sexually-charged catcalls at Miss Piggy (until she proves able to bend steel, at which point they all quietly resume their actual construction duties).
Polizos has been a familiar television face since the 1980s, with guest spots on Hill Street Blues, The A-Team, St. Elsewhere, Married... with Children, Roseanne, Murder, She Wrote, Seinfeld, Desperate Housewives, The X-Files, CSI, and Modern Family, plus recurring stints on Jericho (Shep Cale), Boston Legal (as a detective) and Who's the Boss? (as Tony Danza's father-in-law) and an appearance in the ABC TV version of Annie (as a friendly beat cop).
Movies include Prizzi's Honor and Harlem Nights, The Falcon and the Snowman, A Fine Mess, Eraser, Night of the Creeps, One Eight Seven, and Superhero Movie (in the latter three, as a coroner or mortician).
External links
Ad blocker interference detected!
Wikia is a free-to-use site that makes money from advertising. We have a modified experience for viewers using ad blockers

Wikia is not accessible if you've made further modifications. Remove the custom ad blocker rule(s) and the page will load as expected.