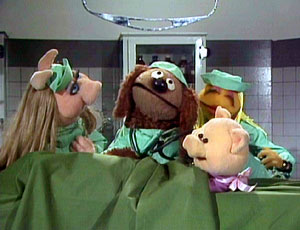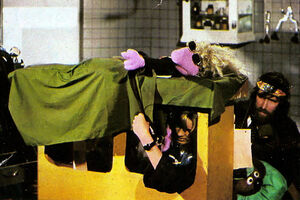 Veterinarian's Hospital is a recurring Muppet Show sketch, loosely spoofing the atmosphere of medical soap operas.
Dr. Bob (played by Rowlf the Dog), Nurse Piggy (Miss Piggy), and Nurse Janice confer over a series of patients, telling an endless series of bad jokes and failing to effect any cure.
In the first season, the unseen Announcer was played by John Lovelady, who opened each sketch with, "And now, the continuing story of a former orthopedic surgeon who's gone to the dogs." Jerry Nelson, who occasionally substituted for Lovelady, would take over the role full time in subsequent seasons. Nelson's announcer opens the sketch with, "And now, the continuing stoooory of a quack who's gone to the dogs," and ends each sketch with "Tune in next week when you'll hear [Character Name] say..."
After the completion of The Muppet Show in 1981, the further antics of Dr. Bob's operating room were told in the panels of The Muppets comic strip by Guy and Brad Gilchrist. Examples from the earliest strips made their debut on October 21st and 28th, and December 8th; the last two of which feature Fozzie returning to the hospital bed once again. Later strips took the trio outside of their familiar setting and even split the characters up to inspire a variety of circumstances. Some of these can be found in the pages of six book collections of the series released by Tom Doherty Associates. More "Veterinarian's Hospital" sketches were included in the books It's The Muppet Show! and The Comic Muppet Book. A Veterinarian's Hospital comic strip was written and illustrated for Disney Adventures, but never published until the release of the trade paperback of The Muppet Show Comic Book: Meet the Muppets. Additionally, Issue #2: Fozzie's Story and Issue #4: Miss Piggy's Story include the sketch.
When the Muppet gang returned to television in 1989 with The Jim Henson Hour, Vet's Hospital was revived in a sense as "Merlin the Magician, MD," two medieval sketches (seen in episode 102 and 107) in which Rowlf appeared as the wizard Merlin (accompanied by a female assistant). Like Dr. Bob, Merlin would purportedly cure people's medical problems (this time using magic), making jokes and slinging puns all the while. In the Muppets' 1996 series Muppets Tonight, the Muppets, this time led by Dr. Fozzie, would again revisit the pun-filled medical sketch with the recurring segment "E-I-E-I-OR".
In 2003, Sababa Toys released a set of bean dolls featuring the Vet's Hospital cast and a patient, Camilla. Palisades Toys also planned on a set of Vet's Hospital action figures, but the toys were not produced.
Sketches
The Muppet Show Season 1

Picture
Patient
Episode
Description

Fozzie Bear
Episode 105: Rita Moreno
Janice is late because she was operating in the other booth. ("I know, it's the talk of the hospital," says Dr. Bob.) Fozzie is the patient, and when he considers leaving, Janice tells him that Dr. Bob is the only one who can save him. Dr. Bob claims to have saved over 500 last year (dollars, not patients), but he also lost over 100 pounds (not in weight, but in England).

Dead Patient
Episode 109: Charles Aznavour
The patient, a furry blue thing, is dead.

Hiccuping Patient
Episode 110: Harvey Korman
A patient has the hiccups, but Dr. Bob is more concerned with his own problems, such as being overworked and underpaid. The patient eventually explodes, and decides to quit while he's ahead.

Duck
Episode 113: Bruce Forsyth
The patient is a duck, but Dr. Bob keeps confusing it with a chicken. The duck constantly yells "Duck!" when someone says he's a chicken, but the doctors take it as a sign that something is about to fall down. Finally, something does fall down: a lamp, which lands on Dr. Bob's head.

Old Man
Episode 114: Sandy Duncan
Dr. Bob leaves his watch inside an old blue Whatnot.

Behemoth
Episode 115: Candice Bergen
Behemoth is at the hospital for a tummy ache and a sore throat. Dr. Bob hits his tummy with a hammer, giving him a tummy ache, but the patient explains that he has a sore throat and wants it to go away. Turns out he has a frog in his throat, and it's Kermit. Kermit, quite annoyed, threatens to cancel the skit.

Chicken
Episode 116: Avery Schreiber
Dr. Bob operates on a chicken (the chicken puppet only has one eyelid).

George the Janitor
Episode 117: Ben Vereen
George is the patient, but he doesn't feel any better at this hospital. Dr. Bob is told that he has given the hospital a bad name, and he agrees...Fred is a terrible name for a hospital. This sketch was re-recorded for The Muppet Show album.

Bread
Episode 118: Phyllis Diller
The patient is a talking loaf of bread. What does Dr. Bob make of it? Toast!

The Muppet Show Season 2

Picture
Patient
Episode
Description

Thing
Episode 201: Don Knotts
The Screaming Thing from "The Windmills of Your Mind" is the patient. He has three left feet, but also left two feet in Cincinnati.

Fozzie Returns
Episode 204: Rich Little
Fozzie is back in the hospital.

At the Dance
Episode 206: Nancy Walker
Two sketches are accidentally scheduled at once: Veterinarian's Hospital and At the Dance.

Telephone
Episode 210: George Burns
Dr. Bob operates on a telephone and prescribes a local anaesthetic -- "Long distance costs too much!"

Cow
Episode 211: Dom DeLuise
The audience demands to see Miss Piggy. The patient is a cow, and Dr. Bob and both nurses make several cow jokes. This sketch was released on It's The Muppets: More Muppets, Please!

Shoe
Episode 212: Bernadette Peters
Dr. Bob operates on a shoe with a coated tongue, while exchanging 'shoe business' jokes.

Shakespeare Jokes
Episode 213: Rudolf Nureyev
While operating on a piglet, Dr. Bob and company recite a string of Shakespearean puns.

Baskerville the Hound
Episode 214: Elton John
Dr. Bob and company try to figure out what breed Baskerville is.

Dr. Bob Does a Sketch Twice
Episode 215: Lou Rawls
Dr. Bob lost another one of his patients. By the end of the sketch, he asks who the Announcer is, and the Announcer answers, "I'm the guy who says, 'Welcome to Veterinarian's Hospital, the continuing stoooory of a quack who's gone to the dogs...'" and the sketch is repeated (with slightly adjusted jokes). This sketch was released on Muppet Treasures.

Hungry Operating Table
Episode 220: Petula Clark
Dr. Bob's patient is sinking... into the operating table, that is.

Vegetarian's Hospital
Episode 224: Cloris Leachman
Dr. Bob and Nurse Janice have been replaced by Doctor Pig and Nurse Pig. This sketch was a UK Spot.

The Muppet Show Season 3

Picture
Patient
Episode
Description

Train Conductor
Episode 308: Loretta Lynn
The patient is a train conductor, who can only say "All aboard!"

The Swedish Chef
Episode 309: Liberace
What starts as a Swedish Chef sketch finishes with Vet's Hospital, as the hospital staff discover the chef has a rare case of in-grown coffee pot.

Spanish Dancer
Episode 312: James Coco
One of the Spanish Dancers who have been showing up throughout the show has acute appendicitis. Meanwhile, James Coco thinks the sketch needs "razzle-dazzle" and sends in some dancing chorus-girls.

Recording Room Sound Guy
Episode 313: Helen Reddy
One of the sound men from the "Blue" number appears as the patient.

Hawaiian Pig
Episode 320: Sylvester Stallone
One of the pigs from the "Hawaiian War Chant" number is the patient.

Cluckitis
Episode 321: Roger Miller
Everyone in the theater catches "Cluckitis" and turns into chickens, including the Vet's Hospital cast and their patient.

The Muppet Show Season 4

Picture
Patient
Episode
Description

Old Lady
Episode 404: Dyan Cannon
One of the old ladies from Geri and the Atrics is the patient.

Robin the Frog
Episode 406: Linda Lavin
In honor of Kermit's birthday, Robin makes an appearance on the operating table. Piggy demands that he will call her Aunt Piggy.

Kermit the Frog
Episode 410: Kenny Rogers
Kermit is the patient. Dr. Bob and Nurse Janice crack jokes about both Kermit's condition and Nurse Piggy's love for him. This sketch was released on It's The Muppets: Meet the Muppets.

Best Sketch of the Year?
Episode 412: Phyllis George
Veterinarian's Hospital and Pigs in Space are nominated for Best Sketch in the Fred Awards, so Doctor Bob practices his acceptance speech.

Pig Patient
Episode 413: Dizzy Gillespie
A pig keeps coming back into the operating room because he has fallen in love with Nurse Piggy.

Dr. Bob
Episode 418: Christopher Reeve
Christopher Reeve replaces Dr. Bob while Bob is the patient.

Bunnies
Episode 421: Doug Henning
As a result of Fozzie's magic trick gone wrong, bunnies keep coming out of the operating table.

Rabbit
Episode 422: Andy Williams
This sketch was released on Muppet Treasures.

On the Swinetrek
Episode 423: Carol Channing
On Pigs in Space, Piggy's feet hurt because her shoes are too small. Dr. Bob and Nurse Janice come to the rescue, but can't seem to break through the invisible shield.

The Muppet Show Season 5

Picture
Patient
Episode
Description

Beauregard
Episode 501: Gene Kelly
Beauregard is worried sick because he thinks that the world is coming to an end. The sketch ends with "a sign" he was waiting for: the Announcer falling on him.

Nurse Loretta
Episode 502: Loretta Swit
Loretta Swit replaces Nurse Piggy. This sketch was released on The Kermit and Piggy Story.

Pinocchio
Episode 508: Señor Wences
Pinocchio is at the hospital because his nose grows every time he tells a lie.

Conga
Episode 510: Jean-Pierre Rampal
Marvin Suggs lies on the operating table and starts a conga line to the beat of his heart and the operating instruments, along with Dr. Bob, Nurse Janice, Nurse Piggy and several patients. This sketch was not introduced as a Veterinarian's Hospital sketch.

Gonzo
Episode 511: Paul Simon
Gonzo is only in the hospital for laughs. This sketch was a UK Spot.

The Weather Man
Episode 516: Gladys Knight
The theater's roof has been removed. The patient is a singing weatherman, who predicts the weather in song.

In the Dark
Episode 522: Buddy Rich
While all the lights are out, Dr. Bob tries to operate on one of the electricians who tried to fix the lighting problem in the theater and got a shock.

Viking
Episode 524: Roger Moore
The patients is one of the pig vikings from the opening number "In the Navy".

Additional Sketches (Non-Muppet Show)

Picture
Patient
Episode
Description

Script
A Muppet Crew Presentation
Honorable mentions
External links
See also