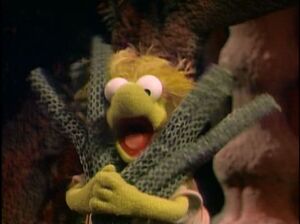 "Very Scary (If This Don't Getcha)" is a song sung by Wembley from Fraggle Rock Episode 313: Scared Silly. Wembley is set on getting revenge on Boober for scaring him. While booby trapping Boober's room, Wembley sings about all the traps he is setting (fake spiders, springy snakes, things falling from above the doorway, etc.), saying that if these scary traps don't get Boober, nothing will.
In the Animated Series episode Wembley's Trip To Outer Space, Red and Mokey sing the song to Wembley while they, Boober and Gobo try to scare him out of Wembleosis.
Ad blocker interference detected!
Wikia is a free-to-use site that makes money from advertising. We have a modified experience for viewers using ad blockers

Wikia is not accessible if you've made further modifications. Remove the custom ad blocker rule(s) and the page will load as expected.