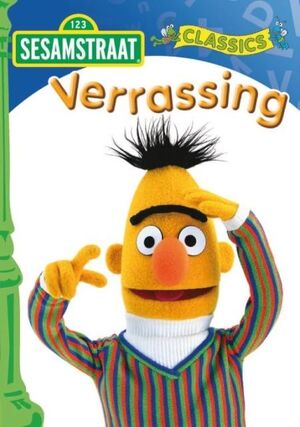 Verrassing (Surprise) is a Sesamstraat DVD released in 2008, as part of Weton-Wesgram's Sesamstraat Classics collection.
In this DVD, Grover and Ernie organize a surprise party for Bert.
Segments
Gluren
Verrassing
Bert mag niet naar binnen
Tekening voor jezelf
Boek
Wie is wie
Make-up
Mangat
Kadootjes vangen
Verrassen
Varkens horen vies te zijn
Ad blocker interference detected!
Wikia is a free-to-use site that makes money from advertising. We have a modified experience for viewers using ad blockers

Wikia is not accessible if you've made further modifications. Remove the custom ad blocker rule(s) and the page will load as expected.