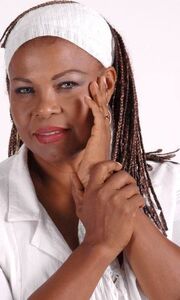 Veronica Con K played Dona Mati on Plaza Sésamo.
Born Nicanora Verónica Hernández Ávila in Guerrero, Guerrero, Mexico, she studied at the Andrés Soler Institute. Her debut screen role was in 1989's Carrusel, and is best known for recurring roles in Marisol (1996) and El privilegio de amar (1998-1999), which was dubbed and rerun in Hungary.
Ad blocker interference detected!
Wikia is a free-to-use site that makes money from advertising. We have a modified experience for viewers using ad blockers

Wikia is not accessible if you've made further modifications. Remove the custom ad blocker rule(s) and the page will load as expected.