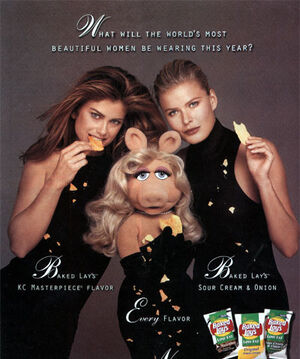 Vendela (b. 1967) (full name Vendela Kirsebom) is a Swedish supermodel. She made a cameo appearance in a Pigs in Space sketch from episode 108 of Muppets Tonight, in which she plays Princess Vendela who has come the make the male crew of the Swinetrek her personal slaves.
She was also featured in Frito-Lay commercials with Kathy Ireland and Miss Piggy, as well as the corresponding print campaign.
External links
Ad blocker interference detected!
Wikia is a free-to-use site that makes money from advertising. We have a modified experience for viewers using ad blockers

Wikia is not accessible if you've made further modifications. Remove the custom ad blocker rule(s) and the page will load as expected.