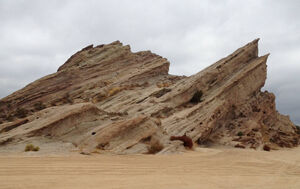 Vasquez Rocks is a geological formation located in the Sierra Pelona Mountains, in northern Los Angeles County, California. It is notable for its distinct shape which protrudes from the ground at approximately a 45 degree angle. As such, it has been featured in many films and TV shows. These include several episodes of Star Trek (and some of the movies), Bill & Ted's Bogus Journey, Mel Brooks' Blazing Saddles, Planet of the Apes, The Twilight Zone, Buffy the Vampire Slayer, Michael Jackson's "Black or White" music video, and many others.
A scene for The Muppet Movie was shot at Vasquez Rocks. After reasoning with Kermit the Frog to convince him to appear in commercials for Doc Hopper's Frog Legs restaurants, Doc Hopper takes his henchmen to the desert for training in hunting him down. Snake Walker is introduced as a specialized frog killer, hitting a Kermit target held by Max, who has been standing behind a rock formation. Vasquez Rocks' most recognizable angle is seen at the beginning of the scene when the men are lined up for target practice.
The Jim Henson's Creature Shop-effects film The Flintstones was also shot on location at Vasquez Rocks.
Ad blocker interference detected!
Wikia is a free-to-use site that makes money from advertising. We have a modified experience for viewers using ad blockers

Wikia is not accessible if you've made further modifications. Remove the custom ad blocker rule(s) and the page will load as expected.