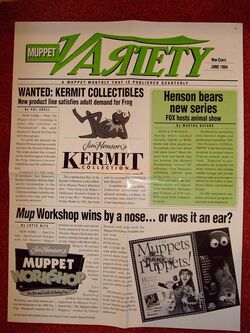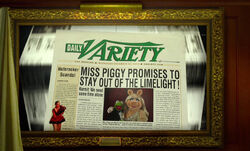 Variety is a weekly entertainment trade magazine founded in New York City in 1905, with a daily edition printed in Los Angeles, California since 1933. A New York City daily edition was added in 1998, running continually since then with the weekly magazine.
The magazines features industry insider stories on the behind the scenes aspects of Hollywood and the entertainment world. The magazine pulished the first film review in 1907, and continues to be a leader in information on filmmaking.
References
Floyd Pepper reads copies of Variety backstage in episodes 420 and 423 of The Muppet Show.
In The Muppets Take Manhattan, the gang reads through Variety, looking for Broadway producers who will support their show on several occasions and in promotional photos for the film.
The magazine was spoofed with Muppet Variety, the "in-house" newsletter for Jim Henson Productions.
A mock version of Daily Variety is featured during the end credits of The Muppets, with a headline reading "Miss Piggy Promises to Stay Out of the Limelight!" and the subtext "Kermit: We Need Some Time Alone."
External links