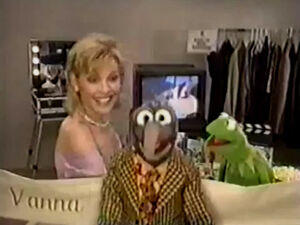 Vanna White (b. 1957) has been the co-hostess and puzzle operator for NBC's Wheel of Fortune since 1982.
Kermit the Frog and Gonzo appeared with White and host Pat Sajak on Wheel of Fortune in May 1999 to promote their new movie, Muppets from Space.
References
Vanna White was parodied on Sesame Street as Velma Blank.
On Shalom Sesame, in a spoof of Wheel of Fortune, Vanna was parodied as Lavanna White. It also mentions that she has a cousin from America, referencing Vanna's American heritage.
Ad blocker interference detected!
Wikia is a free-to-use site that makes money from advertising. We have a modified experience for viewers using ad blockers

Wikia is not accessible if you've made further modifications. Remove the custom ad blocker rule(s) and the page will load as expected.