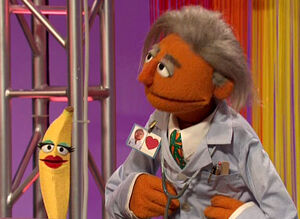 Vanna Banana is a talking banana who appears in a sketch from the Barrio Sésamo mini-series, Monstruos Supersanos.
She is brought onto Dr. Ruster's show, "Everything You Need To Know About a Healthy Breakfast." She talks to contestant Cookie Monster the many things for breakfast other than cookies, pointing out how putting bananas on them can make them tastier.
Her name is a reference to Wheel of Fortune hostess, Vanna White.