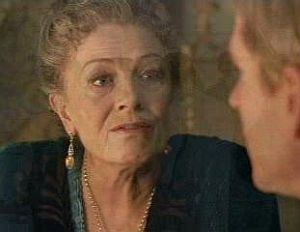 Vanessa Redgrave (b. 1932) is an Academy Award-winning actress, the older sister of Lynn Redgrave, and the mother of Natasha and Joely Richardson. She played Wilhelmina in the Creature Shop TV movie Jack and the Beanstalk: The Real Story and voiced the Greater Dane in the Jim Henson Pictures film Good Boy! Other voice credits include Mama Topolino and the Queen of England in Pixar's Cars 2.
Redgrave made her film debut in the 1958 movie Behind the Mask and went on to starring roles in A Man for All Seasons (as Anne Boleyn, with Paul Scofield, John Hurt, and Orson Welles), Morgan: A Suitable Case for Treatment (netting her first Oscar nomination), Blow-Up, and Camelot. In the 1970s, she appeared in Murder on the Orient Express (as a suspect) and Agatha (as Agatha Christie), and won her Academy Award for the title role in Julia. Later films include Howards End, The Cradle Will Rock, and Mrs. Dalloway. From 2004 until 2005, she played a recurring guest role on the TV series Nip/Tuck as Erica Noughton.
External links
Ad blocker interference detected!
Wikia is a free-to-use site that makes money from advertising. We have a modified experience for viewers using ad blockers

Wikia is not accessible if you've made further modifications. Remove the custom ad blocker rule(s) and the page will load as expected.