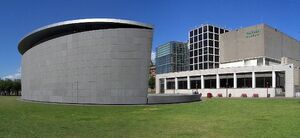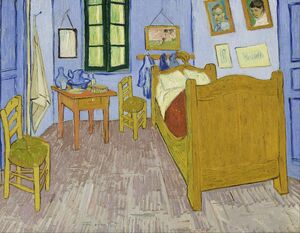 The Van Gogh Museum in Amsterdam in the Netherlands is an art museum dedicated to the works of Vincent van Gogh and his contemporaries. It is located at the Museum Square in the borough Amsterdam South, close to the Stedelijk Museum, the Rijksmuseum, and the Concertgebouw.
The museum opened on June 2, 1973. It is located in buildings designed by Gerrit Rietveld and Kisho Kurokawa. The museum houses the largest collection of Van Gogh's paintings and drawings in the world.
For the 35th anniversary of Sesamstraat, a special painting was unveiled on November 15, 2011. Based on Van Gogh's The Bedroom, it depicted Sesamstraat characters in the room, including Elmo, Tommie, Bert and Ernie. The painting was on display for two months and later auctioned for charity.
In conjunction with the painting, an educational program was launched for attending schoolchildren (featuring walk-around versions of the Sesamstraat Muppets), as "a playful and relevant way, to stimulate the socio-emotional development of young children".
External links