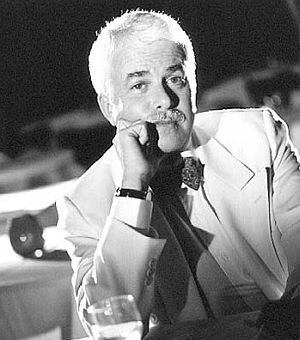 Van Dyke Parks is a musician, composer, and occasional actor who scored Follow That Bird.
Parks began his show business career as a child actor, appearing on various television shows (including The Honeymooners, as a neighbor kid) and the 1956 film The Swan. In the 1960s, he wrote songs for the Beach Boys and released a few solo albums, and later moved to film, scoring Out on a Limb, Club Paradise, The Two Jakes, and Private Parts, and writing all of the songs for the animated film The Brave Little Toaster. He served as arranger and conductor on Robert Altman's Popeye, and had a small role as the piano player.
Ad blocker interference detected!
Wikia is a free-to-use site that makes money from advertising. We have a modified experience for viewers using ad blockers

Wikia is not accessible if you've made further modifications. Remove the custom ad blocker rule(s) and the page will load as expected.