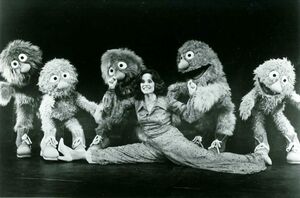 Valerie Harper (b. 1940) is probably best known for her role as Rhoda Morgenstern on The Mary Tyler Moore Show and its spin-off, Rhoda. She also starred in her own sitcom Valerie (later renamed The Hogan Family) from 1986 to 1987.
She was the guest star on The Muppet Show episode 120.
External links
Ad blocker interference detected!
Wikia is a free-to-use site that makes money from advertising. We have a modified experience for viewers using ad blockers

Wikia is not accessible if you've made further modifications. Remove the custom ad blocker rule(s) and the page will load as expected.