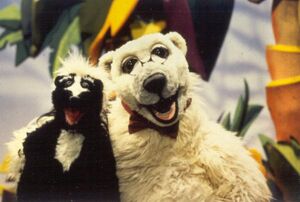 About me
From under the ocean, over the clouds, and around the world, here is the wild side of wildlife, The Animal Show! Now, let's have a wild welcome for your furry friends, Stinky and Jake! Hello all you little animals out there. I'm Stinky the Skunk, and I am Jake the Polar Bear, your guides to the wonderful world of animals.
Favorite Characters
and amoung other Animal Show animals out there, that flap, swim, hop, stalk, roar, and see the world through the eyes of animals.
Exciting News from Ollie and Armstrong
This just in, there will be a Fraggle Rock DVD entitled Scared Silly coming September 14, and there is gonna be a bonus feature on the DVD, and we bet you haven't guessed it yet, it's a full episode of our very own Animal Show entitled Tarantula & Mole. - Ollie the Tapir and Armstrong the Chicken Hawk.
My favorite pages
Add links to your favorite pages on the wiki here!
Favorite page #2
Favorite page #3