Hi, I'm a free-spirited German child of the late 70s, who was born just hours after The Muppet Show with John Denver wrapped filming, and grew up in a city, on a street possibly quite similar to yours.
For the past couple of years I have lived in deepest, darkest Mormon territory 'round the other side of the world, and am longing to go back there, because I had to leave my heart behind.
Until I find a way, most of what I'll continue to contribute to this wonderful wiki might or might not have to do with Die Muppet Show, Die Fraggles, Die Dinos (no, not that kind of "die"), ...or Jell-O.
I also created and design those seasonal logos and the background image on Muppet Wiki,
and I am an occasional Sesame puppeteer, which is a dream come true! Cheerio!
| | | |
| --- | --- | --- |
| | Read on and enjoy the following lists!   You'll find: | |
My Muppet Wiki logos
Beginning in 2010, with the design overhaul of Wikia, I started designing the Muppet Wiki logo.
Based on the classic "MUPPET" font developed by Michael Frith, I added the imitating "WIKI" lettering; all the while incorporating the trademark Kermit eye that Scott Hanson first prominently used on the original design, based on the first Miss Piggy Calendar's "private eye" icon, again designed by Frith.
In the style of Google's commemorative Google Doodles used for special occasions, I decided to use the blind space to the right of the logo for special holiday logos. Trying to stick to using images found on this wiki as the basis, here's what I've done so far:





Basic Muppet Wiki logo
Premiered on October 15, 2010 (CET)







Thanksgiving logo
Created for November 25, 2010 (CET)
Premiered on November 24, 2011 (CET)







Christmas logo
Premiered on December 24, 2010 (CET)







Valentine's Day logo
Premiered on February 14, 2011 (CET)







Spring logo
Premiered on March 21, 2011 (CET)
(reappeared throughout April)







Earth Day logo
Premiered on April 22, 2011 (CET)







Arbor Day logo
Premiered on April 29, 2011 (CET)







Memorial Day logo
Premiered on May 30, 2011 (CET)
(reappeared for Jim Henson's 75th birthday)







Independence Day logo
Premiered on July 4, 2011 (CET)







Basic Muppet Wiki logo (shadow adjusted)
Premiered on November 4, 2011 (CET)







Summer logo
Premiered on June 26, 2013 (EDT)







Halloween logo
Premiered on October 31, 2010 (CET)







Winter logo
Premiered on December 4, 2010 (CET)
(reappeared throughout January)







Groundhog Day logo
Premiered on February 2, 2011 (CET)







St. Patrick's Day logo
Premiered on March 17, 2011 (CET)







April Fool's Day logo
Premiered on April 1, 2011 (EDT)
(along with an entirely Fozzie-fied front page)







Easter logo
Premiered on April 24, 2011 (EDT)







Mother's Day logo
Premiered on May 8, 2011 (CET)







Father's Day logo
Premiered on June 17, 2011 (CET)
(stayed up longer in lieu of a Summer logo)







Labor Day logo
Premiered on September 5, 2011 (EDT)







New Year's logo
Premiered on December 30, 2011 (ST)



My Muppet Wiki backgrounds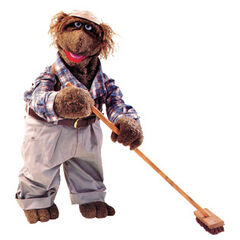 Starting October 2011, I began to also tackle the background design of Muppet Wiki, clearly emulating and taking character images from the posters of the new Muppet movie out in theaters that year. The few changes I made consisted of rearranging characters and, most importantly, adjusting their pupils and correcting some of their formerly skewed eye focus.

In April 2012, I decided to represent the three main legs of the Muppet family (Muppet characters, Sesame characters and Fraggle characters) equally prominent on the wiki, and created a new, vibrant background image that tries to be reminiscent of the great group shots of the Henson era (such as this one).

Unfortunately, Wikia only allows files that are 300 KB in size for their background images, which clearly results in a loss of quality. Available here are higher resolution versions of the different background images crafted so far:





The Muppets background
Premiered on October 31, 2011 (EDT)







Character mix background #2
(Super Grover variant, minor changes)
Premiered on May 12, 2012 (EDT)







Character mix background #4
(...though the community wished for a curtain instead)
Premiered on December 31, 2012 (EDT)







Character mix background #1
Premiered on April 15, 2012 (CET)







Character mix background #3
(Wikia design change led to room for more characters...)
Premiered on October 3, 2012 (EDT)





"
Men, let's salute the Doozers
who built this wiki and formed
the strong foundation for the
visual work showcased here!
"



Some of the articles that I started
Fun Facts

Food

Songs

Merchandise

Productions & Appearances

Folks & Characters
A few of my favorite articles that I contributed to
Fun Facts

Merchandise

Productions & Appearances

Folks & Characters

Exhibitions
Inspiring and fun image galleries
| | | |
| --- | --- | --- |
| " | Elewen! Elewen vonderful galleries!     Ah-ah-ah-ah! | " |