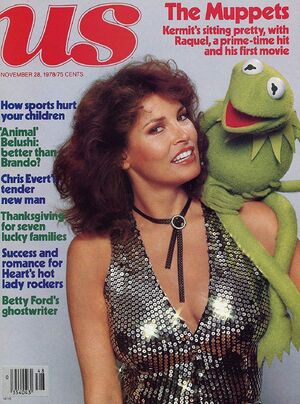 Us Weekly, founded in 1977 simply as Us, is a magazine publication covering topics ranging from celebrity gossip to fashion trends.
1978
Kermit the Frog appeared on the cover of the November 1978 issue with Muppet Show guest, Raquel Welch. The cover advertises an article about The Muppet Show (which had recently aired Welch's episode) and The Muppet Movie.
2015
An issue from the first week of September 2015 included a feature titled "Muppets—They're Just Like You!" with several original photos of the Muppets in everyday situations.
Ad blocker interference detected!
Wikia is a free-to-use site that makes money from advertising. We have a modified experience for viewers using ad blockers

Wikia is not accessible if you've made further modifications. Remove the custom ad blocker rule(s) and the page will load as expected.