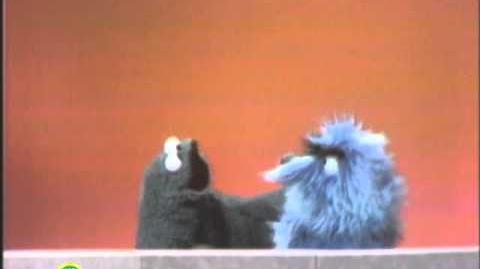 "Up and Down" is a Sesame Street song from Season 1. The song was originally sung by a group of hippie Anything Muppets who sing it as part of "Silly Song Time", intercut with a sequence featuring Buddy and another with Ernie and Bert. (First: Episode 0060) The song talks about the different things you can see when you look up, and when you look down.
When the song was featured on The Sesame Street Book & Record it was credited to "Two Monsters" performed by Jim Henson and Frank Oz. The album's illustrations and pictures include misleading clues as to who the two monsters may have been, but given the ambiguity, there is no conclusive evidence that it was ever meant to have been two specific monsters when it was initially recorded. On later album releases, the song is credited to "Cookie Monster and another Monster."
In 1970 (for Season 2), the song was videotaped with Cookie Monster and an early Herry Monster. (First: Episode 0154) The soundtrack from The Sesame Street Book & Record album was used for this version, so Jim Henson's voice is heard instead of Herry's regular performer, Jerry Nelson. In the sketch, Herry finds Cookie looking for the cookie he dropped, but notices he's looking upward. They sing about the difference, but after the song, Cookie explains a bird took his cookie when he dropped it. He spies the bird and chases it. The bird, however, drops the cookie in Herry's hand, who eats it.
In 1996, a remake of this song was taped with Herry and Cookie Monster in a playground. (First: Episode 3532) This version of the song marked the debut of a revised version of Herry, with a thinner eyebrow. Some lyrics were altered slightly to reflect the fact that they were singing outdoors (looking at the sun/grass instead of ceiling/floor, respectively) and that Herry doesn't wear shoes.
Releases
Audio
Video
Publications
See also