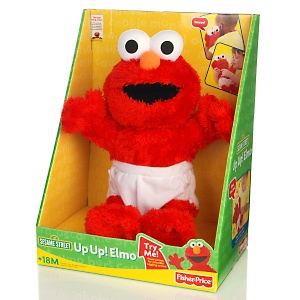 Up Up! Elmo is an interactive doll released by Fisher-Price. The 10-inch plush is activated by pressing his tummy. Elmo waves his arms and kicks his feet to bouncing sound effects. He asks to be picked up. If he is picked up he sings a song and then asks to be put back down. If he isn't picked up for awhile he asks again. When he is put back down he says "That was such a big hug" and asks for a drink from his sippy cup.
Ad blocker interference detected!
Wikia is a free-to-use site that makes money from advertising. We have a modified experience for viewers using ad blockers

Wikia is not accessible if you've made further modifications. Remove the custom ad blocker rule(s) and the page will load as expected.