This article is about an upcoming project, product, or production.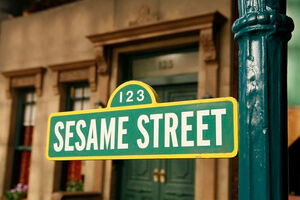 On June 19, 2012, The Hollywood Reporter announced that a new Sesame Street movie was in the works to be produced by 20th Century Fox. Shawn Levy (Night at the Museum) was set to produce from a script by head Sesame Street writer Joey Mazzarino.[1] The article also listed Michael Aguilar (Unaccompanied Minors), Mark Gordon (Grey's Anatomy, Saving Private Ryan) and Guymon Casady (Game of Thrones) as producers.
In April 2015, The Tracking Board reported that the film had moved to Warner Bros. with Levy now directing as well as producing. The move to another studio prompted a search for new screenwriters who would center the script around an adventure set in New York City.[2]
One year later, Levy signed on to direct a remake of Starman, leaving the Sesame Street movie without a director.[3] Since the time of the initial announcement, Mazzarino had also moved on from Sesame Workshop, leaving the project without a writer.
In November 2016, Levy, promoting the release of Arrival (Amy Adams), noted that he was still developing a Sesame Street movie at Warner Bros. On November 15th, Deadline reported that screenwriters had been found in David Guion and Michael Handelman (who had worked together on The Ex, Dinner for Schmucks, and Night at the Museum 3), with Mark Gordon still attached to produce, as well as Jesse Ehrman (This Is Where I Leave You with Tina Fey and Jason Bateman).[4]
In September 2018, Variety reported that Jonathan Krisel, director and co-creator of the show Portlandia, was attached to direct, with Levy still producing. The film is also reported to be a musical.[5]
Sources