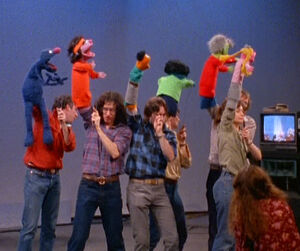 In 1983, Sesame Street producer Arlene Sherman and director Victor DiNapoli began filming footage for a documentary about the show that ultimately never came to fruition.[1] This footage included interviews with the cast and crew, and a behind-the-scenes look at production meetings, puppet building and the taping of various episodes and inserts.
Some of the footage eventually found its way into other documentaries including Biography, and several snippets were included on 40 Years of Sunny Days and Old School: Volume 3.
Sources
↑ Jim Henson: Behind the Seams compilation screening at the Museum of the Moving Image
Ad blocker interference detected!
Wikia is a free-to-use site that makes money from advertising. We have a modified experience for viewers using ad blockers

Wikia is not accessible if you've made further modifications. Remove the custom ad blocker rule(s) and the page will load as expected.